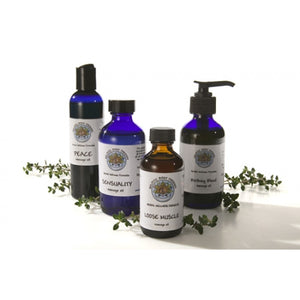 Loose Muscle Massage Oil
(Specialized Massage Oil)
Excellent for sore muscles, sprains and strains.
Ingredients: arnica, st. john's wort & calendula infused organic olive oil, organic hempseed oil, organic macadamia nut oil, organic avocado oil, organic sweet almond oil, organic wheat germ oil & vitamin e w/ essential oils of lavender, marjoram, ginger & blue tansy
Peace Massage Oil
Great all purpose massage oil.  Excellent for sore muscles.
Ingredients: st. john's wort infused organic olive oil, organic hemp seed oil, organic avocado oil, organic wheat germ oil, vitamin e & essential oils of lavender, orange, geranium, frankincense and myrrh
Sensuality Massage Oil
Exotic and erotic...need we say more?
Ingredients: vanilla infused organic macadamia nut oil, organic sweet almond oil, organic hemp seed oil, organic avocado oil, & essential oils of ylang-ylang, nutmeg & patchouli.
THESE PRODUCTS ARE NOT INTENDED TO DIAGNOSE, TREAT, CURE OR PREVENT ANY DISEASE
Sensuality Massage Oil
I feel like a queen when I use this massage oil. One of my favorite. Its relaxing, smug, feminine, delicious!!