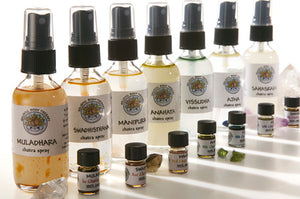 Available as pure essential oils or Jojoba dilution in special roll-on bottles ready for wear
MULADHARA - 1st Chakra - ROOT
"I am here. I have." - For self-preservation, survival & grounding w/ Garnet
Ingredients: rosewood, patchouli, myrrh, vetiver, allspice, ylang ylang & oakmoss
SWADHISTHANA - 2nd Chakra - SACRUM
"I feel." - For self gratification, sexuality & emotional identity w/ Tiger's Eye
Ingredients: blood orange, jasmine- sambac, grandiflorium & juhi, sandalwood, nutmeg, ginger & massoia bark
MANIPURA - 3rd Chakra - SOLAR PLEXUS
"I act." - For self-definition, will, power & assertiveness w/ Citrine
Ingredients: neroli, lemon, cedar, mandarin, grapefruit, peppermint & fennel
ANAHATA - 4th Chakra - HEART
"I love." - For self-acceptance, love, compassion & balance w/ Rose Quartz
Ingredients: roseotto, morrocco & Bulgarian, ylang ylang, geranium, bergamot & green tea
VISSUDHA - 5th Chakra - THROAT
"I speak. I am heard." - For self-expression, communication & creativity w/ Aquamarine
Ingredients: eucalyptus, cypress, sandalwood, blue tansy, blue & roman chamomile
AJNA - 6th Chakra - BROW
"I see." - For self-reflection, intuition & imagination w/ Lapis Lazuli
Ingredients: mugwort, clary sage, rosemary, lavender, holy basil & violet leaf
SAHASRARA - 7th Chakra - CROWN
"I know." - For self-knowledge, bliss & understanding w/ Amethyst
Ingredients: white & blue lotus, frangipani, frankincense, neroli, lavender & angelica
THESE PRODUCTS ARE NOT INTENDED TO DIAGNOSE, TREAT, CURE OR PREVENT ANY DISEASE
These oils are amazing!!!
I'm a massage therapist & use these oils during my sessions to help ground and activate my clients in a more wholistic sensory experience.
It's amazing how these chakra oils actually invoke the colors & expressions of each of the seven chakras. I also love to pull the oils out among a few close friends & pass them around the circle to unite & enjoy this chakra sensory experience together. Everyone always loves them & wants a set of their own. I highly recommend the entire set.