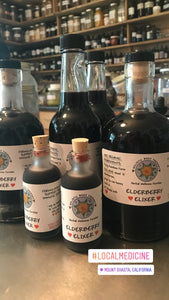 This special elixir is 100% local medicine from Flying Rainbow Farm.
It was created from the honey from our bees, elderberries from our land and the water from our well.
Potent medicine for the immune system
THESE PRODUCTS ARE NOT INTENDED TO DIAGNOSE, TREAT, CURE OR PREVENT ANY DISEASE

potent goodness!
This really works. When I didn't feel well, just a sip has done the trick to get me back and better fast! And it's freakin' delicious.
Bomber
Not only is elderberry scientifically PROVEN to help combat colds and flus, this elixir is scientifically proven to be absolutely delicious!
I take this pretty regularly during cold and flu months, but ESPECIALLY at the first sign of any illness. In which case i take about 2 tablespoons 2-3 times a day. It works, and no matter what form of elderberry you have, this amazing plant should be apart of EVERYONES medicine cabinet.
Powerful
I take this at the first sign of a cold or flu and it completely turns it around. It's more powerful than big pharmacy immune boosters like Tamiflu and with out the side effects. I love the care that Andrea puts into her remedies, her elderberry elixir is consistent and effective.