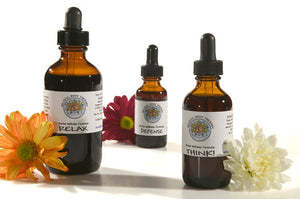 MOOD JUICE - Mood Juice is a potent elixir that harnesses the power of nature to help ease mild depression, anxiety, and attitude adjustments. It is crafted with care and precision using only the finest ingredients, including wildcrafted Mount Shasta St John's wort, a powerful herb known for its mood-elevating qualities; Kava Kava, which has been used for centuries in traditional medicine to calm anxiety and promote relaxation and feelings of calmness, which can help people feel more comfortable and at ease in social situations.  In addition, the cinnamon in the Mood Juice elixir provides a warm and inviting aroma that can create a more welcoming environment. When consumed, the elixir may also promote a general sense of wellbeing and positivity, which can make social interactions more enjoyable and fulfilling. Raw honey, which adds sweetness and nourishment; and pure Mt. Shasta spring water, which is thought to possess unique healing properties. The result is a magical potion that can help you feel more centered, calm, and uplifted, promoting a sense of inner peace and wellbeing. Simply sip and savor this delicious elixir, and let its healing powers transform your mood and lift your spirits.
Contraindicated for anyone on SSRIs
for mild depression, anxiety, and attitude adjustments
Ingredients: wildcrafted St John's wort, Kava Kava, cinnamon extracted in pure organic grain alcohol, raw honey, and pure Mt. Shasta spring water
THESE PRODUCTS ARE NOT INTENDED TO DIAGNOSE, TREAT, CURE OR PREVENT ANY DISEASE
Love this stuff!
This is truly my fallback solution whenever I find myself in a gloomy mood or feeling a bit stagnant emotionally. It seems to oil the gears of my emotions, smoothing out the rough edges. When I plan to go out for the night, I always take this with me as a precaution. In fact, I believe I'll indulge in a bit of it right now! It's simply outstanding.
Da bombdiggidy
This stuff is AMAZING!!
I navigate mild, sometimes not so mild, anxiety and depression and having this little bottle on my person has made a world of difference.
I also offer it freely to people I know and love, people I meet randomly who may benefit from some loving attention. People respond so beautifully to this medicine.
At first a little unsure, but soon wide eyed in amazement, first at how yummy it is and then the body feels. Reactions ranging from, oh lovely thank you, to, holy moly full body tingles, where can I gat that.
Andrea Shanti is a alchemista extraordinare creating from a place of love and devotion.
Ordering more now!