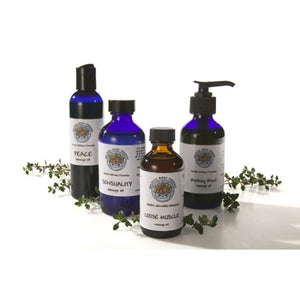 4 Queens Oil
The ultimate in luxury and care for the Queen in your life. It featurs all the queens of the flower world: Rose, Neroli, Jasmine and Lavender.  They luxuriate in a base of Sunflower, Jojoba and Wheatgerm oil.  This oil is perfect for all stages of pregnancy and pampering in any stage of life.
Baby Belly Butter
Super creamy butter to soften the skin and prepare for birth.
Ingredients: organic raw coconut oil. organic raw cocoa butter, evening primrose oil, vitamin e, w/ essential oils of tangerine, lavender, roman chamomile & rose geranium
Baby Calm Massage Oil
This oil is soothing and sedating to baby.
Ingredients: calendula infused organic sweet almond oil, avocado oil, organic wheat germ oil, organic jojoba oil, vitamin e & essential oils of lavender, chamomile & sweet orange
Birthing Blend Massage Oil
This blend will reduce the experience of stretch marks and tearing.
Ingredients: organic wheat germ oil, organic hemp seed oil, vitamin e & essential oils of lavender & mandarin
Zinc Ointment
Would you like the best diaper cream that can double as a total sunblock?  Well, this zinc ointment is for you!  It also reduces and calms eczema and skin rashes.  Note--it does show as white on the skin and stays that way.
Ingredients: Grapeseed Oil, Zinc Oxide, Beeswax, Lavender Essential Oil, Vitamin E, Meadowfoam Oil, Tea Tree Essential Oil, Roman Chamomile Essential Oil, Sodium Bicarbonate, Rosehip Oil, Shea Oil, Jojoba Oil, German Chamomile Essential Oil, Comfrey, Calendula Extract Olive Oil
THESE PRODUCTS ARE NOT INTENDED TO DIAGNOSE, TREAT, CURE OR PREVENT ANY DISEASE
Baby Belly Butter
Lithe scents of this belly butter are so delicious. I can't wAit to get some for myself again but instead I have vowed to gift it to any close friend that announces a pregnancy :) Bliss!
Baby Belly Butter
This butter is so luscious and creamy, I loved the daily ritual of slathering it on my round belly! It helped my skin remain smooth and beautiful. I used the leftovers as a moisturizing hand cream. Divine!
Baby Calm Massage Oil
We love to use Baby Calm after bath time, to soothe our sweet babe before bed. Also works great for moisturizing baby buns after a diaper change. And it smells wonderful!!
Birthing Blend Massage Oil
My partner and I used this oil for daily yoni massage for about a month prior to giving birth to my son, and only had one tiny tear that didn't even need stitches. This oil is awesome, and smells yummy too!