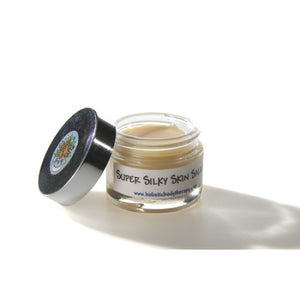 Because you are worth it...
Buddhaful Body Butter
One of the richest most luxury products created--a little goes a long way.
Ingredients: Organic raw coconut oil, mango butter, avocado butter, macadamia nut butter, jasmine flower wax, beeswax w/ essential oils of orange flower, jasmine, lime, kaffir lime, sandalwood & buddhawood
Luminescent Massage Oil
(Specialized Massage Oil- luxury body oil or edible options...)
To inspire sweet bliss and rapture.
Ingredients: raw organic coconut oil infused w/ blood orange, jasmine, cocoa, rose, nutmeg & faerie magic
Shasta Silky Skin Salve
A special* sublime sauce for satiny soft skin and hair.  *scent by angels*
Ingredients: organic jojoba oil, shea butter, aloe butter, jasmine wax, beeswax & essential oils of sandalwood and jasmine sambac
*Shanti* Silky Skin Salve
A splendiferous* sexy salve for satiny soft skin and hair
*scent by shanti*
Ingredients: organic jojoba oil, shea butter, aloe butter, jasmine wax, beeswax & essential oils of jasmine sambac, orange blossom, bergamot and blood orange
THESE PRODUCTS ARE NOT INTENDED TO DIAGNOSE, TREAT, CURE OR PREVENT ANY DISEASE
So good I'm reviewing it twice.
When I first got this butter, I tried it on a new tattoo and it worked wonders (see below).
It turns out it's also incredible for helping heal up the dry, itchy, flaky aftermath of a perio-dermatitis flare-up. I wish I'd had it sooner, because I get these flare-ups four or five times a year.
Best Buddhaful
Several years ago I was at a music festival and visit Andrea's Shanti's booth where she was selling a variety of her hand crafted organic products. I purchase a 4 oz. jar of Buddhaful Body Butter. Since then I have reordered a couple of jars every year - over time the composition has changed when she introduced new ingredients. They've all been great.
I recenty ordered another jar - I think this one might be the best so far. Will def reorder another.
Highly recommend this product for massage!
FANTASTIC for a fresh tattoo!
I loooooove this body butter for knees, elbows and sanitizer-fried hands, but I also discovered that it's AMAZING for healing up a fresh tattoo. I have LOTS of tattoos and just got another new one, a fairly sizable one that takes up most of my ankle and inner right calf. In the past I have used a dedicated "tattoo balm" but this time I had this on hand and this tattoo has healed up better than any other. Colors are vivid, lines are clear and there was very little of the typical dry, flakey healing process I have normally undergone. Recommended for all dry bits needing extra (and luxurious) care, and since I haven't run out of skin yet, will be my go-to for any more tattoos from here on out. The BEST!
Luminescent Massage Oil
Quite possibly the most delicious stuff you may ever rub all over your body. The scent is irresistible, decadent and makes you want to eat it. No other massage oil compares with the Heavenly flavor that this magical potion contains.
Luminescent Massage Oil
One of my favorite scents of all time...Definitely magical...so smooth and decadent, nourishing and delicious...feels like food for my skin!!