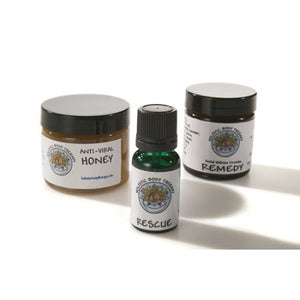 FAMILY SIZE-
2oz ANTI-VIRAL HONEY
10ml RESCUE ESSENTIAL OIL &
50ml REMEDY JAR
$90.00 value for $80.00 (save $10)
or
TRAVEL SIZE-
1/2 oz ANTI-VIRAL HONEY,
5ml RESCUE ESSENTIAL OIL &
15ml REMEDY JAR
super value for $40.00
This HONEY is what Andrea is known for (previously known as anti-viral honey).
Also known as "the medicine chest in a bottle," this honey has been infused with over 200 plant extracts. It has anti-viral, bacterial and anti-parasitic properties.
It is to be taken in VERY SMALL DOSES. It is NOT to put into your tea or heated in any way.
One dose a day (pea sized or smaller) acts as a preventative. Use more often for more support to help ward off when an infection is trying to set in.
NOT SAFE FOR PREGNANCY
INGREDIENTS - raw organic honey w/ essential oils of lavender, tea tree, thyme, ravensara, myrhh, ginger, clove, eucalyptus citriodora & radiata, peppermint, cinnamon, melissa, basil, hyssop, rosemary, yarrow, german & roman chamomile, pine, patchouli, nutmeg, lime, sandalwood, cypress, marjoram, bergamot, myrtle, lemon & peru balsalm with sunflower lecithin and 170 flower essences.
The HONEY does not expire. It has an indefinite shelf life. It does not need to be refrigerated. It does need to be protected from heat and direct light or it will lose potency. It will crystallize over time and occasionally settle in layers of crystallization. 



Remedy Salve
ALL PURPOSE HEALING SALVE
This salve is perfect to use for cuts, scrapes, bites, burns, rashes and skin infections and any skin that is in need of topical healing.
Ingredients: extra virgin olive oil, comfrey, st. john's wort, lavender, yarrow, calendula, malva, basil, rosemary, mugwort, wormwood, thyme, beeswax, vitamin e, essential oils of lavender & tea tree
Rescue
Rescue is like a gentle embrace from a benevolent force, a comforting presence that offers a safe haven in times of need. It is the soothing balm that eases anxiety and quells fears, the steadfast companion that offers unwavering support and encouragement. The blend of lavender, tea tree, eucalyptus, and thyme evokes a sense of calm and clarity, helping to balance the mind and body. With its gentle yet powerful properties, Rescue is a true friend in times of trouble, a beacon of hope and light in the darkness.
Lavender is known for its calming and soothing effects on the mind and body, reducing feelings of anxiety and stress. It can also help with headaches, insomnia, and pain relief.
Tea tree is a powerful natural antiseptic, making it ideal for treating skin conditions such as acne, cuts, and burns. It also has antibacterial and antifungal properties, making it useful in fighting infections.
Eucalyptus is commonly used for its respiratory benefits, helping to clear sinuses and ease symptoms of asthma and bronchitis. It also has analgesic properties, which can help relieve muscle and joint pain.
Thyme is known for its antibacterial properties and has been traditionally used to treat respiratory infections and coughs. It can also be beneficial for digestive issues and has antioxidant properties.
Together, these four ingredients create a powerful blend that can help soothe and heal the mind and body.
To supply protection when defenses are low. 
Ingredients: lavender, tea tree eucalyptus & thyme
THESE PRODUCTS ARE NOT INTENDED TO DIAGNOSE, TREAT, CURE OR PREVENT ANY DISEASE
First Aid Kit
brilliant! everything you need to keep yourself healthy while you're on the road.
First Aid Kit Travel Size
This First Aid travel kit saved me while traveling in the prairies of South Dakota. Was in such a bad state health wise and didn't have much with me. So the sweat lodge and Andreas First Aid travel kit did the job!
First Aid Kit Travel Size
brilliant! everything you need to keep yourself healthy while you're on the road.
First Aid Kit Family Size
These products are essential to my household, we use them all the time. I love to steam with the Rescue oil, especially if I have a clogged sinus.