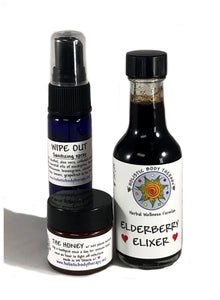 The immune-building, antiviral essential oil products in this kit are beneficial for prevention and treatment of and also help to protect against flu, respiratory and other antibiotic-resistant viruses.
Family Size kit- 2oz THE HONEY, 2oz Elderberry Elixir,  1oz Wipe out Hand Sanitizer
$65 (save $13)
Travel Size kit- 1/2oz THE HONEY, 1oz Elderberry Elixir, 1/2oz Wipe Out Hand Sanitizer
$33 (save $7)
THESE PRODUCTS ARE NOT INTENDED TO DIAGNOSE, TREAT, CURE OR PREVENT ANY DISEASE
Boost you Boosters!
Elderberry elixir is phenomenal! I take this regularly during cold/flu season, and then double up anytime I am feeling slightly out of balance.
The Honey is to LIVE for! I've been keeping in this in my car lately and will take a tiny bit to coat the linings of my mouth and throat when I go out in public. It tastes amazing and gives a sense of added security when I'm in a grocery store or other public areas.
The name says it all with Wipe Out! Also, I love having a convenient sanitizer that I can use on surfaces and hands that doesn't smell like weird chemical fragrances.