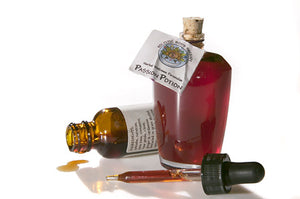 SENSUALITY ELIXIR
Warming- Relaxing- Euphoric-Opens communication-
A Concoction so divine, so tantalizing, that it surpasses ordinary elixirs and transcends into a realm of pure pleasure! Open yourself to the possibilities, and let this elixir become the catalyst for your most unforgettable experiences.
Ingredients: kava kava, cinnamon, rose petals, muira puama, damiana, oatstraw, clove, ginger & cardamom extracted in organic grain alcohol, pure Mt. Shasta spring water & organic glycerine (all alcohol is removed in full moon ceremony).
Fancy corked bottles are available; however, they do not ship well.

THESE PRODUCTS ARE NOT INTENDED TO DIAGNOSE, TREAT, CURE OR PREVENT ANY DISEASE