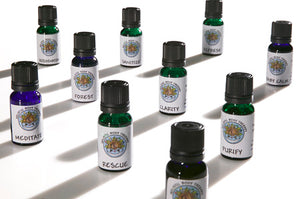 A truly magical concoction designed to cleanse both thy SELF and thy SPACE. This blend is made up of four pure essential oils - white sage, copal, palo santo, and cedar - each with unique properties that work together to create a harmonious and uplifting atmosphere.
White sage is known for its powerful cleansing properties, able to purify both the physical and spiritual realms. Copal, a resin from the copal tree, is often used in traditional ceremonies for its ability to uplift and purify. Palo Santo, also known as holy wood, is believed to bring blessings and promote spiritual healing. Finally, cedar is known for its grounding qualities, helping to anchor and stabilize.
When combined, these four essential oils create a truly sacred blend that can be used to clear negative energy, promote spiritual growth, and create a peaceful and harmonious environment. Use this blend during meditation or simply diffuse it throughout your home to invite in positive energy and promote feelings of calm and tranquility.
To Cleanse thy SELF and thy SPACE 
Pure essential oils of white sage, copal, palo santo & cedar
THESE PRODUCTS ARE NOT INTENDED TO DIAGNOSE, TREAT, CURE OR PREVENT ANY DISEASE