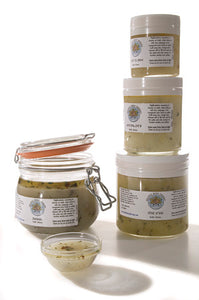 A NECESSITY as part of a cleanse or part of a regular health regimen to gently massage away dead and damaged skin that hasn't had a chance to refresh from the harsher winter and spring weather.
All Salt Glows contain - sea salts, baking soda, sweet almond oil, avocado oil, macadamia nut oil, vitamin e, essential oils & petals of calendula, lavender & rose.
Amma Salt Glow
Divine Blessings from the Mother
w/ essential oils of rose, frankincense & sandalwood
Harmony Salt Glow
For Harmonious Happy Hormones
w/ essential oils of clary sage, bergamot and ylang ylang
Joli Salt Glow
w/ essential oils of jasmine, lime, ginger and sandalwood
Mastery Salt Glow
Pure nectar of the GODS
w/ essential oils of blood orange, fir balsam and sandalwood
THESE PRODUCTS ARE NOT INTENDED TO DIAGNOSE, TREAT, CURE OR PREVENT ANY DISEASE
I use the salt glows regularly as part of my health and bathing ritual.
They are especially good if you are doing any cleanse or detox.
They are a body scrub- exfoliating, nourishing, and moisturizing.
I take a handful at the end of my shower
(I either stop the water or step out of the stream)
and rub it all over my body (except the genitals and face)
and then rinse off.
Afterward, I do my best to air & pat dry; otherwise, all your towels will become soaked with oil over time.
I keep a squirt bottle of strong liquid soap like Dr. Bronner's and squirt it around the shower or tub floor so it doesn't stay slick from the oil--and it supports pipe health.
When I can, I use it outside in my outdoor shower!
The salt scrub is more detoxifying and an invigorating experience, while the
sugar scrub is gentle and soft for a more nourishing and sensual experience.