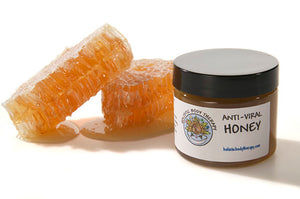 This HONEY is what Andrea is known for (previously known as anti-viral honey).
Also known as "the medicine chest in a bottle," this honey has been infused with over 200 plant extracts. It has anti-viral, bacterial and anti-parasitic properties.
It is to be taken in VERY SMALL DOSES. It is NOT to put into your tea or heated in any way.
One dose a day (pea sized or smaller) acts as a preventative. Use more often for more support to help ward off when an infection is trying to set in.
NOT SAFE FOR PREGNANCY
INGREDIENTS - raw organic honey w/ essential oils of lavender, tea tree, thyme, ravensara, myrhh, ginger, clove, eucalyptus citriodora & radiata, peppermint, cinnamon, melissa, basil, hyssop, rosemary, yarrow, german & roman chamomile, pine, patchouli, nutmeg, lime, sandalwood, cypress, marjoram, bergamot, myrtle, lemon & peru balsalm with sunflower lecithin and 170 flower essences.
The HONEY does not expire. It has an indefinite shelf life. It does not need to be refrigerated. It does need to be protected from heat and direct light or it will lose potency. It will crystallize over time and occasionally settle in layers of crystallization. 
THESE PRODUCTS ARE NOT INTENDED TO DIAGNOSE, TREAT, CURE OR PREVENT ANY DISEASE