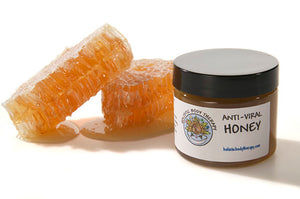 This HONEY is what Andrea is known for (previously known as anti-viral honey).
Also known as "the medicine chest in a bottle," this honey has been infused with over 200 plant extracts. It has anti-viral, bacterial and anti-parasitic properties.
It is to be taken in VERY SMALL DOSES. It is NOT to put into your tea or heated in any way.
One dose a day (pea sized or smaller) acts as a preventative. Use more often for more support to help ward off when an infection is trying to set in.
NOT SAFE FOR PREGNANCY
INGREDIENTS - raw organic honey w/ essential oils of lavender, tea tree, thyme, ravensara, myrhh, ginger, clove, eucalyptus citriodora & radiata, peppermint, cinnamon, melissa, basil, hyssop, rosemary, yarrow, german & roman chamomile, pine, patchouli, nutmeg, lime, sandalwood, cypress, marjoram, bergamot, myrtle, lemon & peru balsalm with sunflower lecithin and 170 flower essences.
The HONEY does not expire. It has an indefinite shelf life. It does not need to be refrigerated. It does need to be protected from heat and direct light or it will lose potency. It will crystallize over time and occasionally settle in layers of crystallization. 
THESE PRODUCTS ARE NOT INTENDED TO DIAGNOSE, TREAT, CURE OR PREVENT ANY DISEASE
Hi. Actually I found the small tub I received a tad harder to get out than I remember. I guess it's just the way it is. I'll continue to take it. And soon as I can afford a larger one I'll get that too. Thank you.
This product keeps me well!
I have used "The Honey" for several years, and have had minimal colds ... there were times I didn't use it, and that's when I got sick. Got me through Covid and flu season ... I also take it through the spring and summer to help with any seasonal allergies. Definitely ANTI-VIRAL, and the best product out there, in my not-so-humble opinion!
Highly recommend this honey!
After hearing about & reading the reviews for this magical honey, I knew I needed it. Coincidentally, right after ordering it, my son got sick with a really bad sore throat. After 2 Covid tests and 1 Strep test (all which were negative) he remained to have the same severe sore throat Luckily on day 6 of his sore throat, the honey arrived and we decided to give it a try. The very next day his sore throat was nearly gone, and the following day it was gone. Yay! I will always keep this special honey on hand and plan to use it prevent or stop any virus or bugs going forward.
Honey for your Immunity
Got a sneaky suspicion that you may be coming down with somethin funky?
Add a drop of this to your tongue on a toothpick a few times a day and feel your funk dissipate away.
A little goes a long way and can last for years in your medicine cabinet.
The "MUST HAVE" Product
I have been using "the HONEY" for years and absolutely swear by it !!!! This is a "must have" product - as soon as I feel the slightest "tickle" in my throat - I immediately reach it and using a toothpick dip it into the Honey adding just the smallest amount to the end of the toothpick then I put it onto my tongue ................ then shortly I'm feeling 100% !!!!
This product will last for years.
I am constantly recommending it to friends and family.
Thank you Andrea for this blessing in our lives - it is truly a "Life Saver" and a MUST HAVE.